Explore your Account
Once you create an account in Demeter (opens in a new tab), you are ready to start working! But first, let's understand a few things about your Account data, Projects, and Organizations.
Your Projects
A Project is the entry point for accessing all the features and infrastructure provided by Demeter (opens in a new tab). You can create as many projects as you need under your Demeter account.
Some limits may exist for the number of projects you can create under a specific plan.
Projects are always created under an Organization. You can see the list of all Projects you have permission to access ( from all Organizations ) in the Projects home page, or you can navigate to an Organization detail to see only projects for an Organization in particular.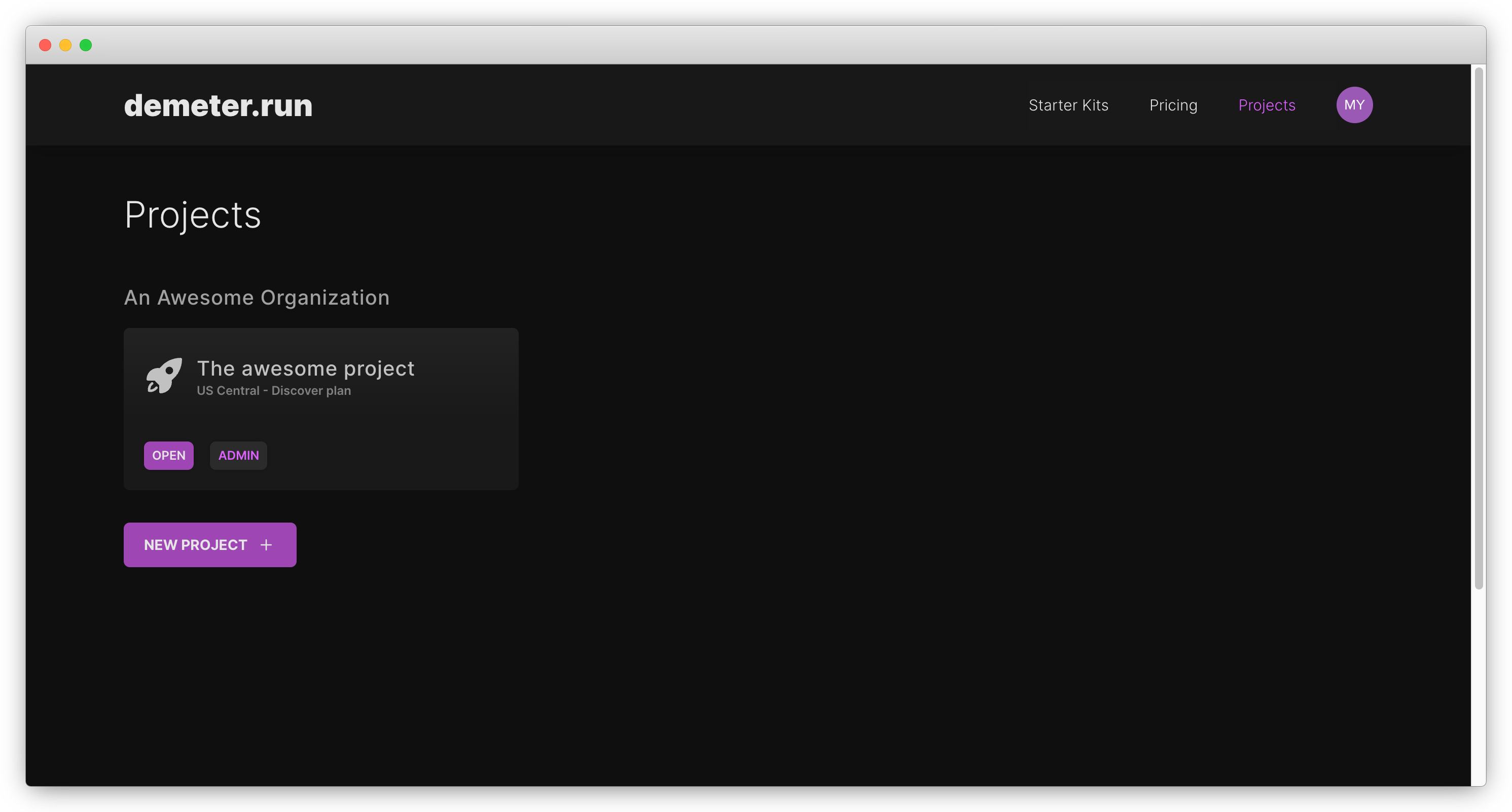 Each project you can access under your account, either because you have created it or you have been invited to collaborate, will be displayed on this home page.
By selecting the open option in the Project card, you can open the Development Console to access all features and infrastructure created for that project.
For those projects where you are an admin or have been created by you, there is an additional admin button under the Project card, this option will let you manage general information about your project like its name, description or collaborators.
Project Admin
In this section you can change your billing plan and the name or the description of your project, as well as delete it, or see the total DCUs consumed during your current billing cycle.
Pricing plan
This section shows information about your subscription, your billing cycle, and all the details about your DCUs usage. Remember you can see the details of the amount of DCUs per unit of time consumed depending on actual impact on resources in the Demeter Compute Units section.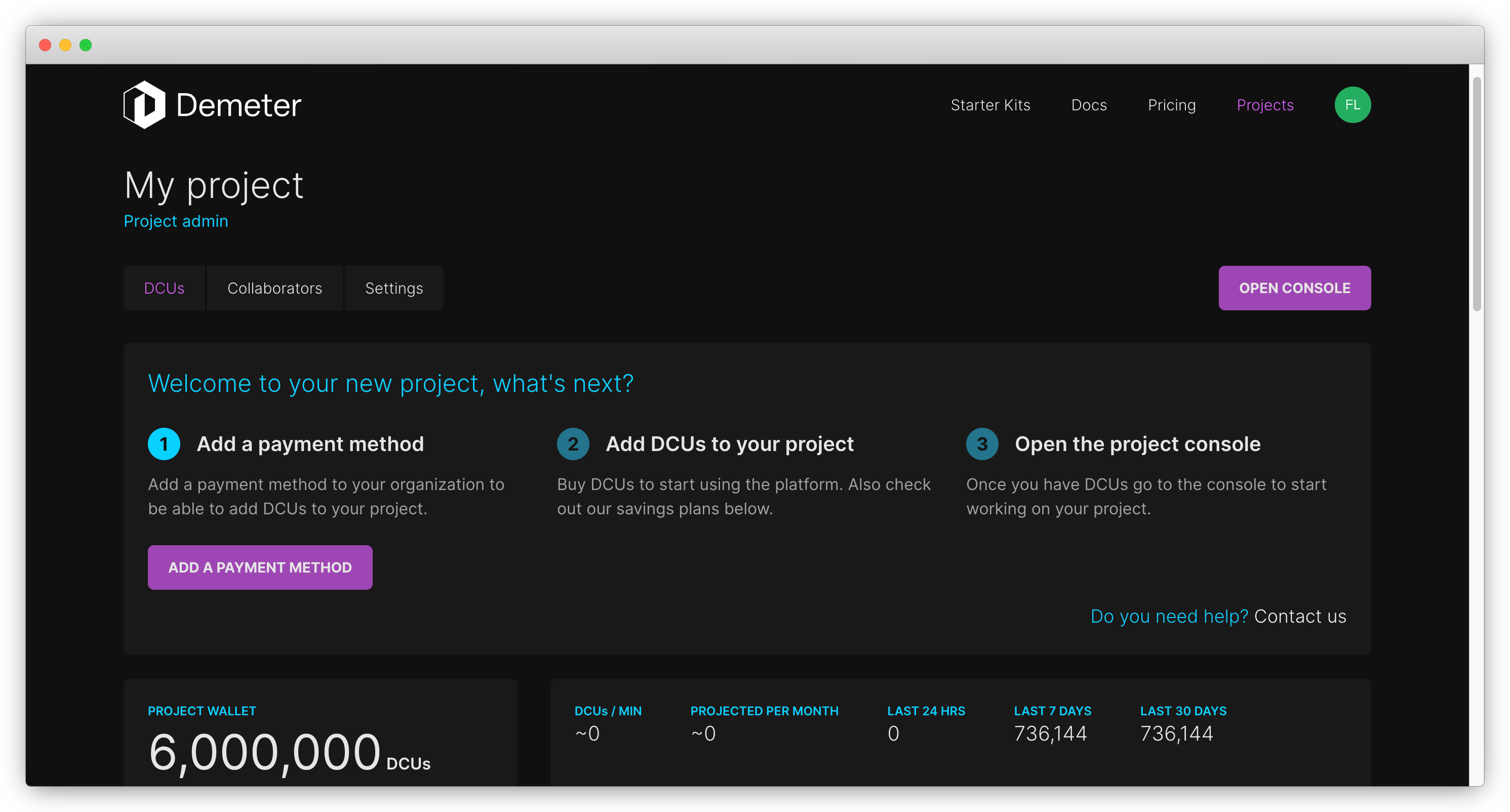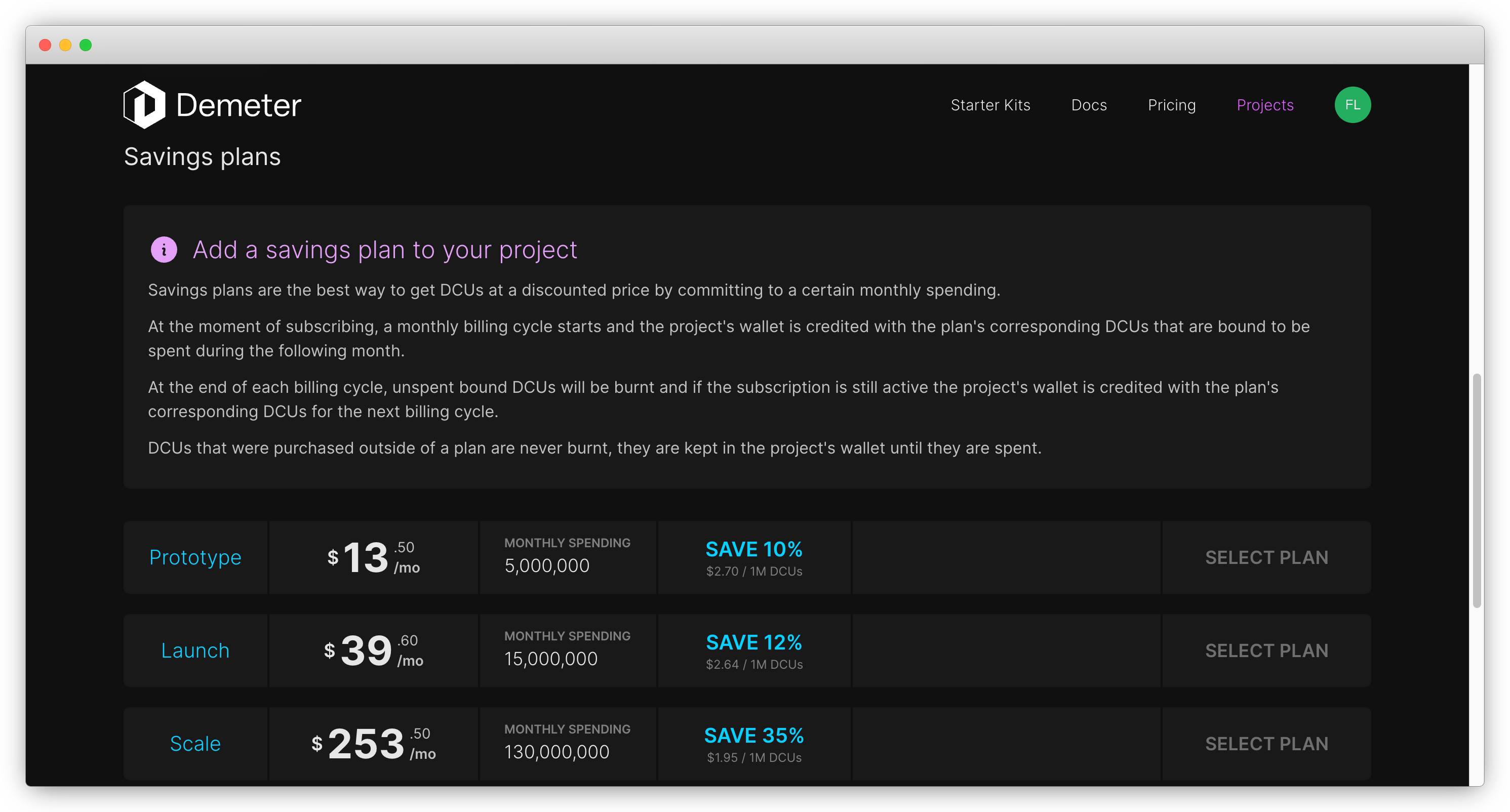 Collaborators
In this section, you can set the collaborators of your Project. Project collaborators have only access to the Development Console but not to the Project Admin.
There is no limit in Demeter about the number of collaborators you can have per project. Only members of your project Organization can be set as collaborators.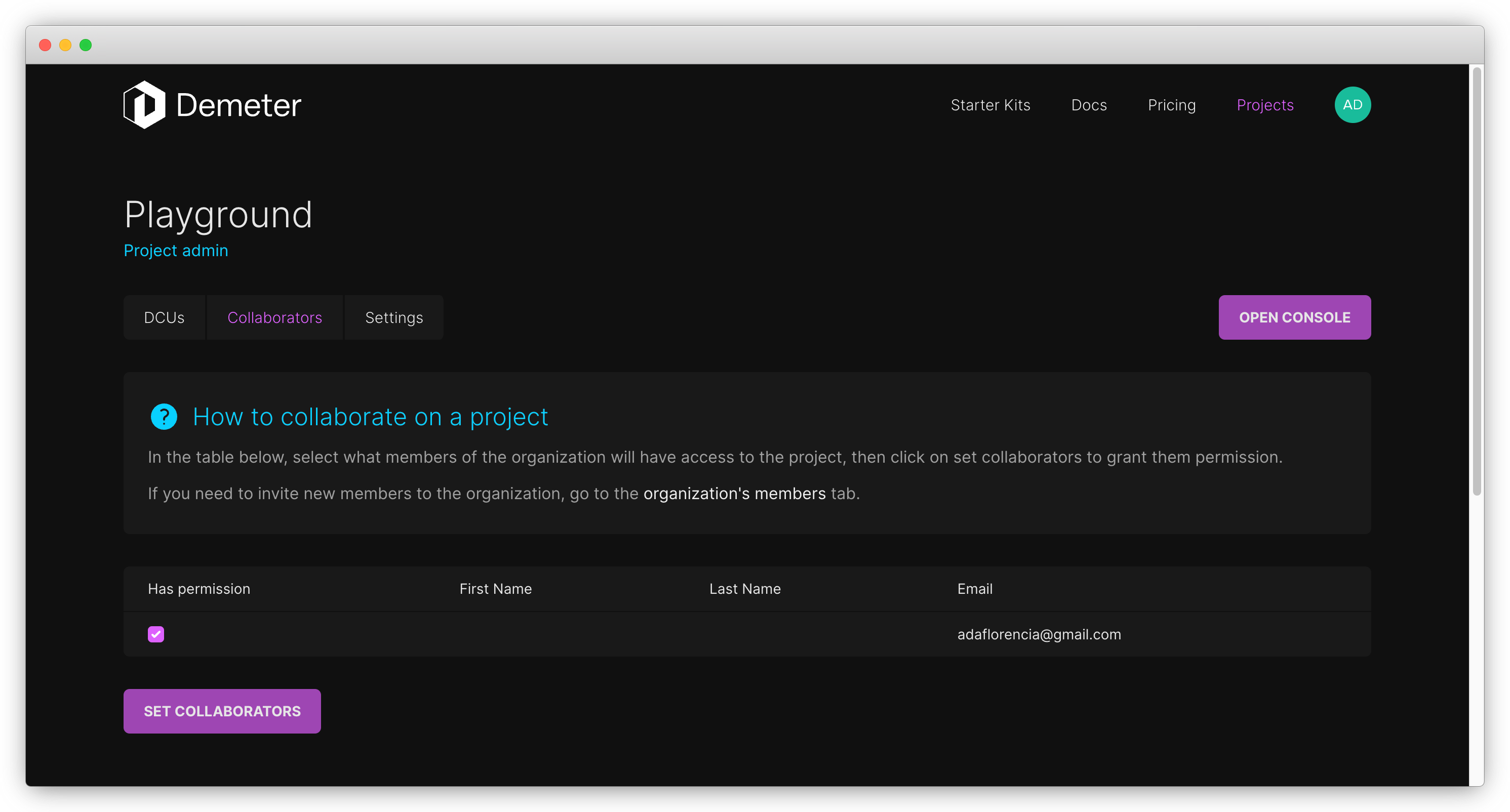 Settings
In this section, you can update general information about your project, request an ejection or Delete your project.
⚠️
Deleting a project will remove all of its associated information, and any Workspace you have under this project. This operation can not be undone.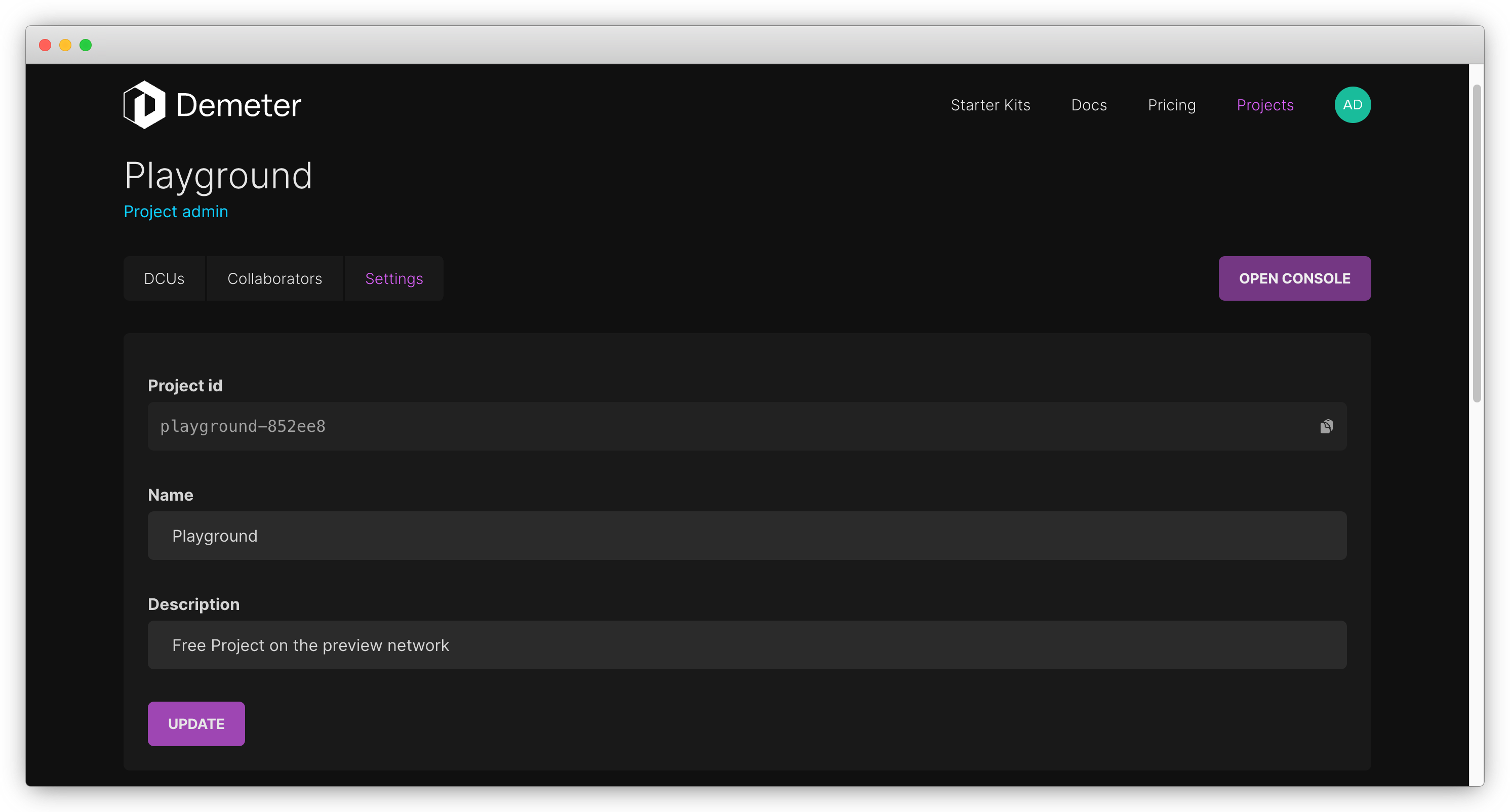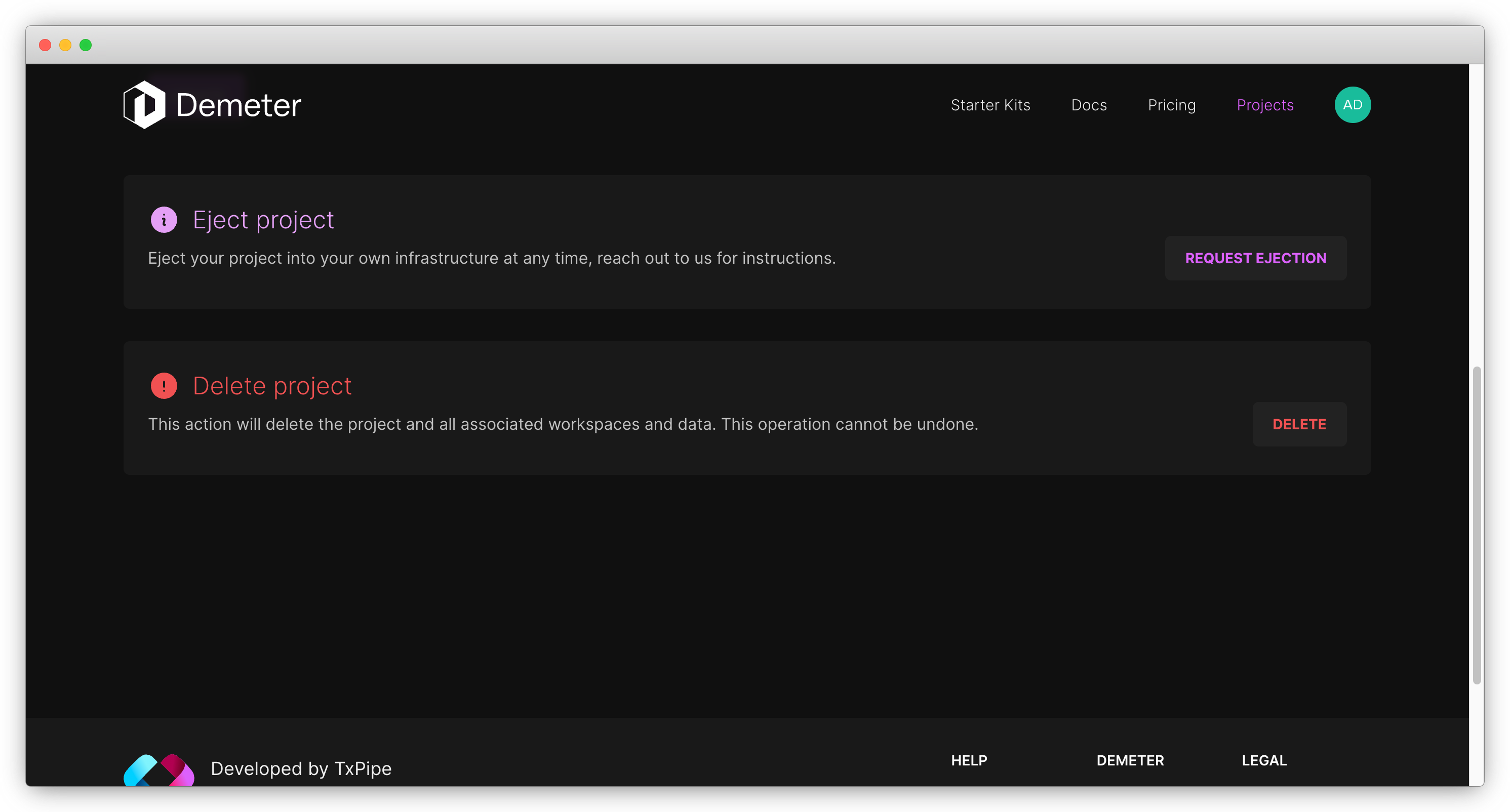 Your Organizations
Every Project you have created belongs to one of your Organizations. When creating an Account in Demeter (opens in a new tab), a default Organization is created automatically with your email address.
Since every project needs to live under an Organization, your default Organization can not be deleted.
To access your Organizations, you can click on your Profile Picture and select Organizations from the drop-down menu.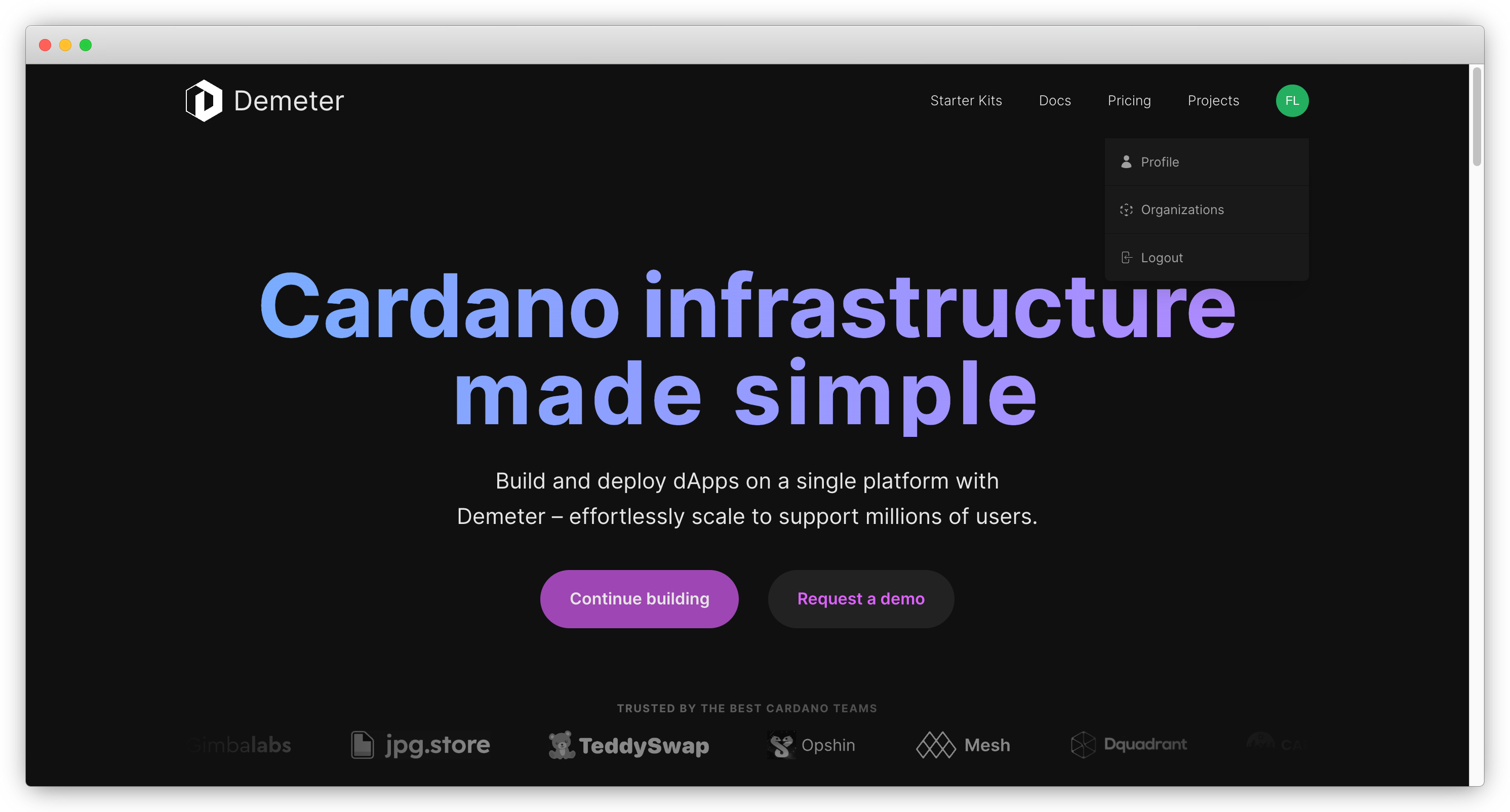 You should see a list of the Organizations related to your Account.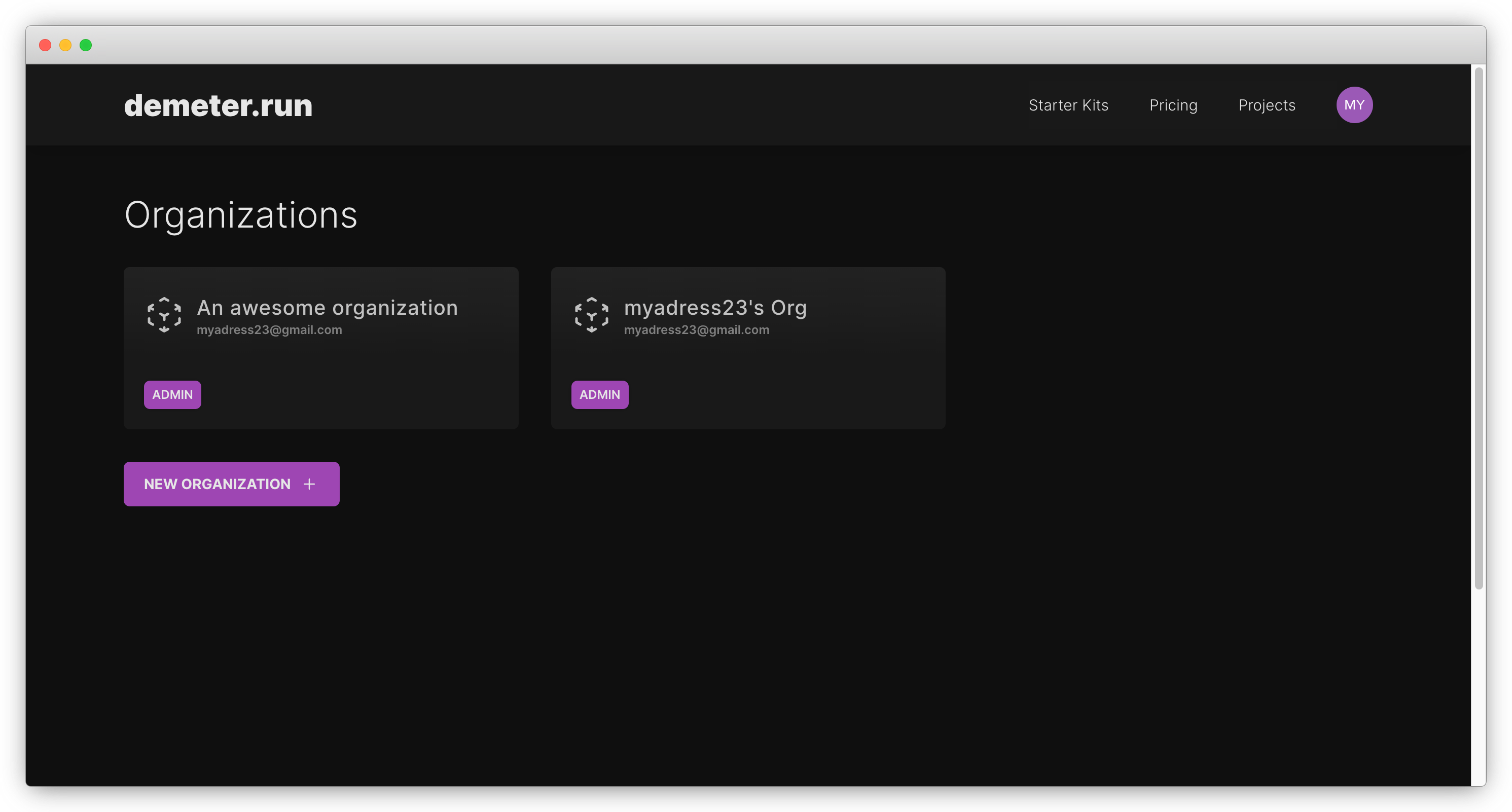 Under your Account you can create as many Organizations as you may need for organizing your Projects. For those Organizations you have created, you will see the options of accessing the admin section.
Organizations will allow you to keep your teams Organized. It's easy to invite members to your Organization who can be set as Collaborators for any project under this Organization.
Organization Admin
Projects
In this section you can easily access to all the projects created for this organization; or easily create new ones.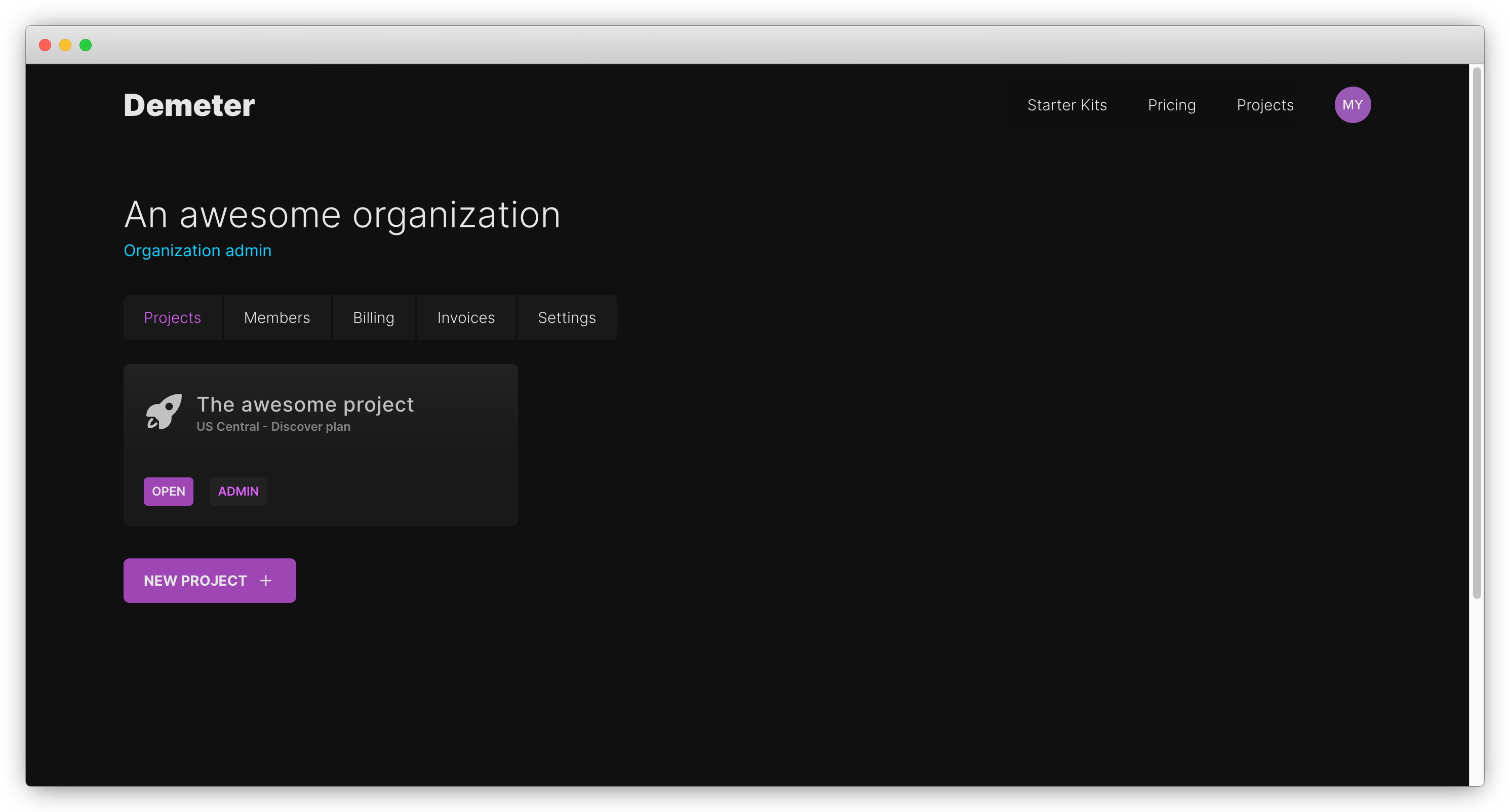 Members
From this section, you can manage your Organization members. Members of an Organization can be set as collaborators for a project under this organization. Project collaborators have access to the Project Development Console.
There is no limit in Demeter about the number of collaborators you can have per project, or the number of Members you can have per organization.
Billing
Payment methods are managed at the organization level, you can have multiple stored at the same time but only one will be your default. To add one, select de "Add payment method" button in the Billing tab and fill in your card details.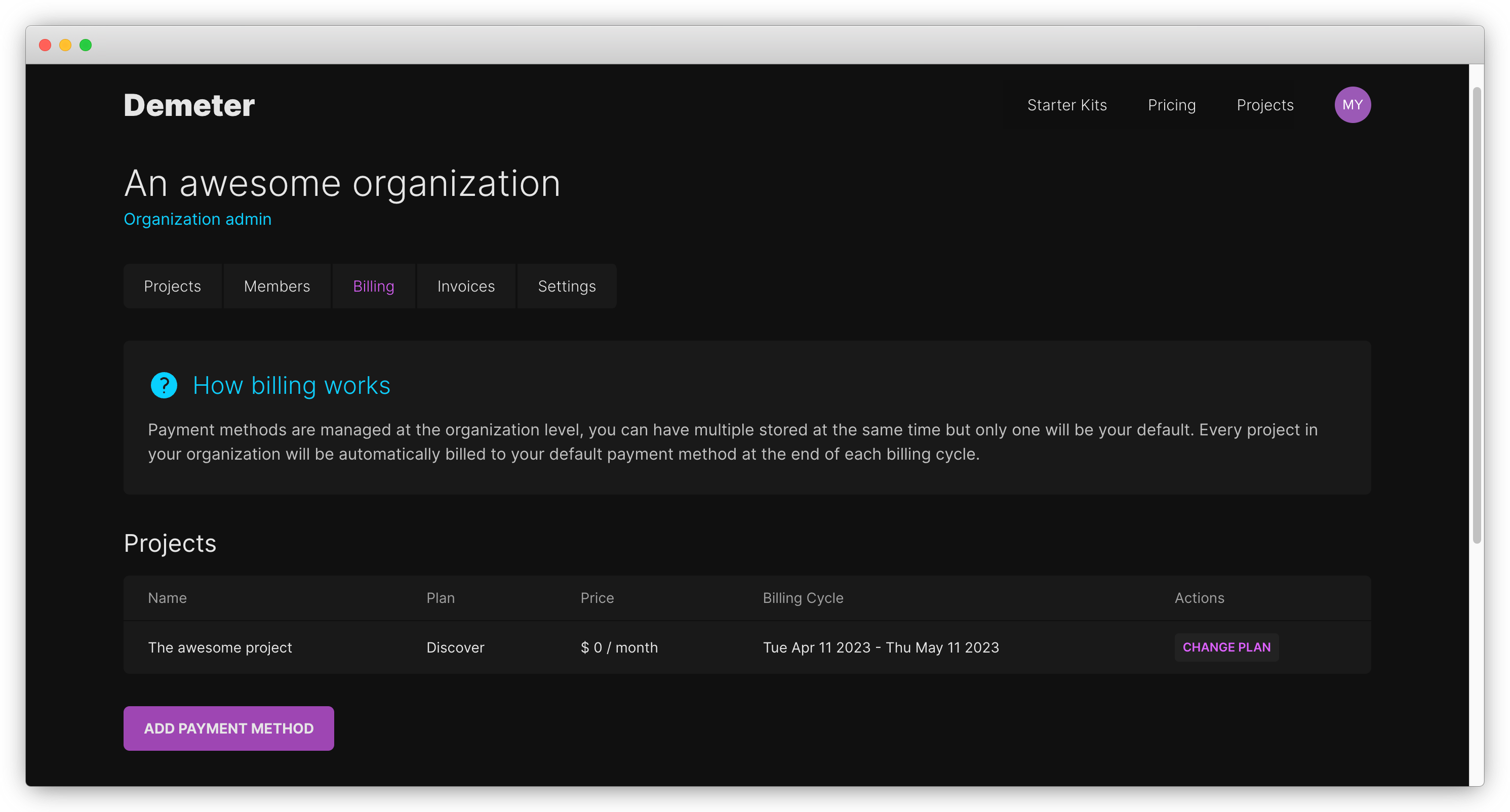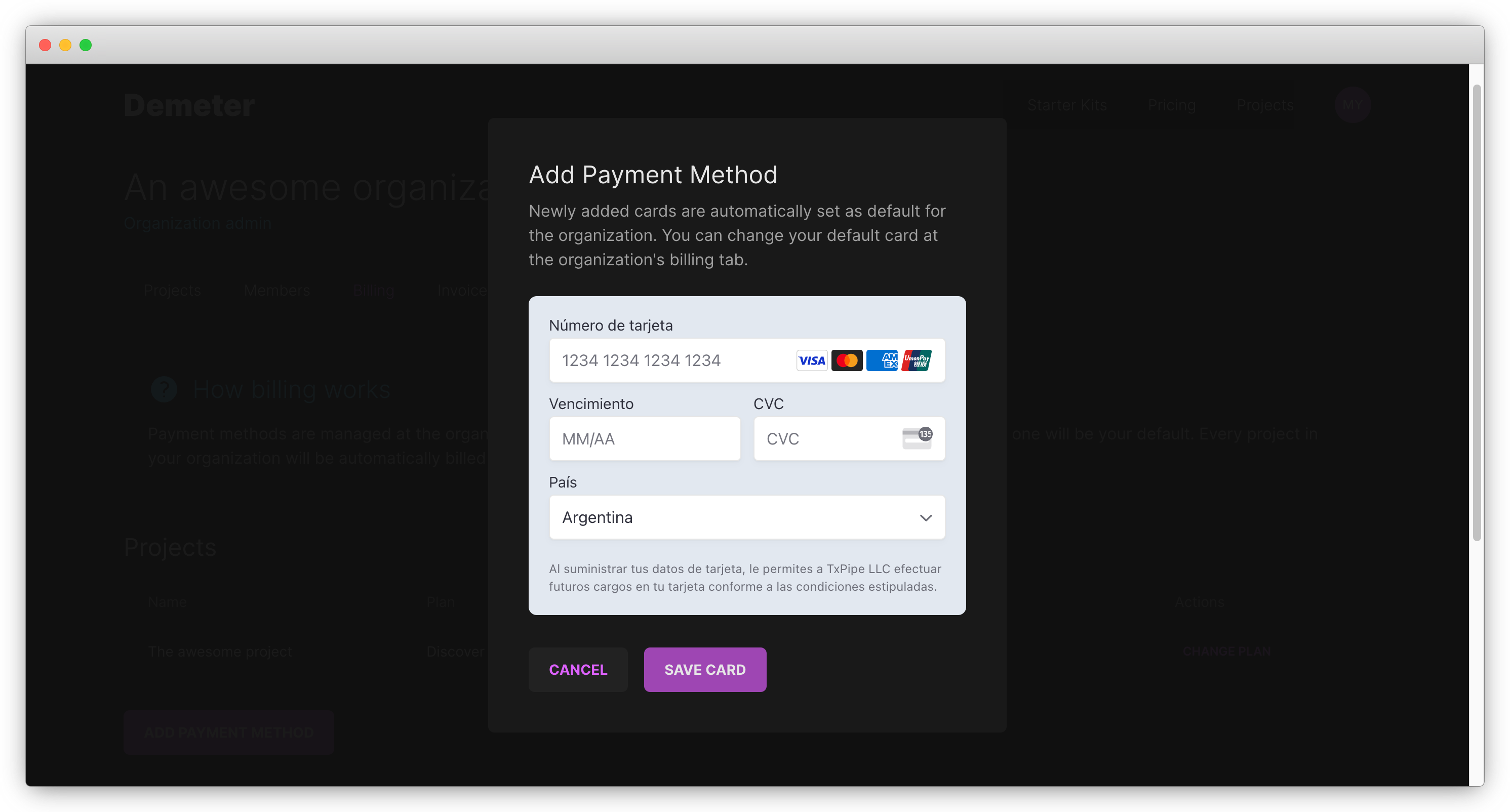 Every project in your organization will be automatically billed to your default payment method at the end of each billing cycle.
We have a plan for each stage of the journey. All plans include:
Access to all extensions
An ever-growing set of extensions developed by the community so you have all the tools you need for building your dApp on Cardano.

Unlimited collaborators
Easily manage team members in your organizations and grant them access to your projects, no limits!

Preview, preprod and mainnet Cardano Nodes
From experimenting to production.
Invoices
In this section you can download your invoices in PDF format to keep track of your expenses.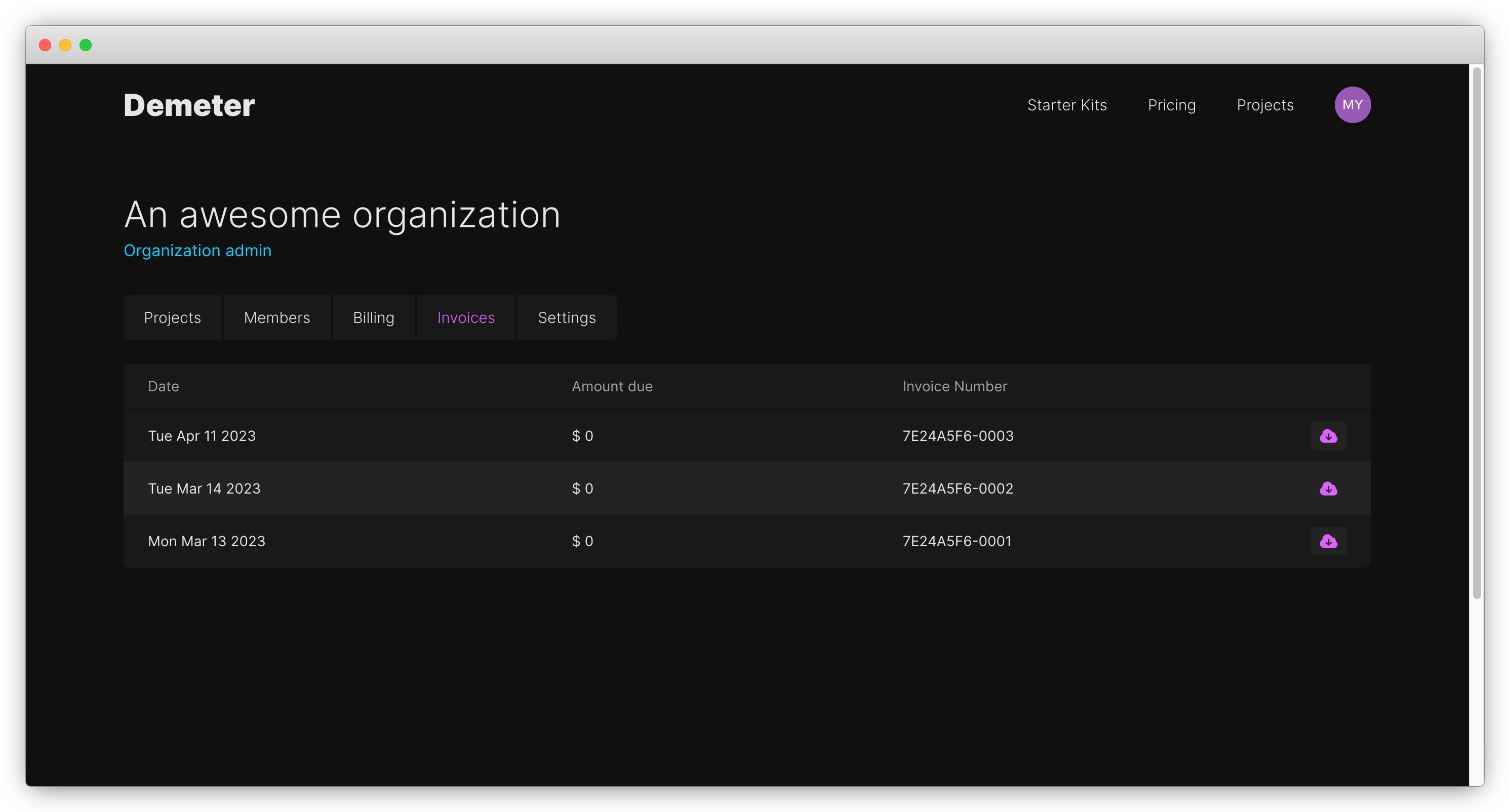 Settings
Update general information about your Organization, like the name, description, and billing email. You can also Delete your Organization from here as long as this is not your default Organization.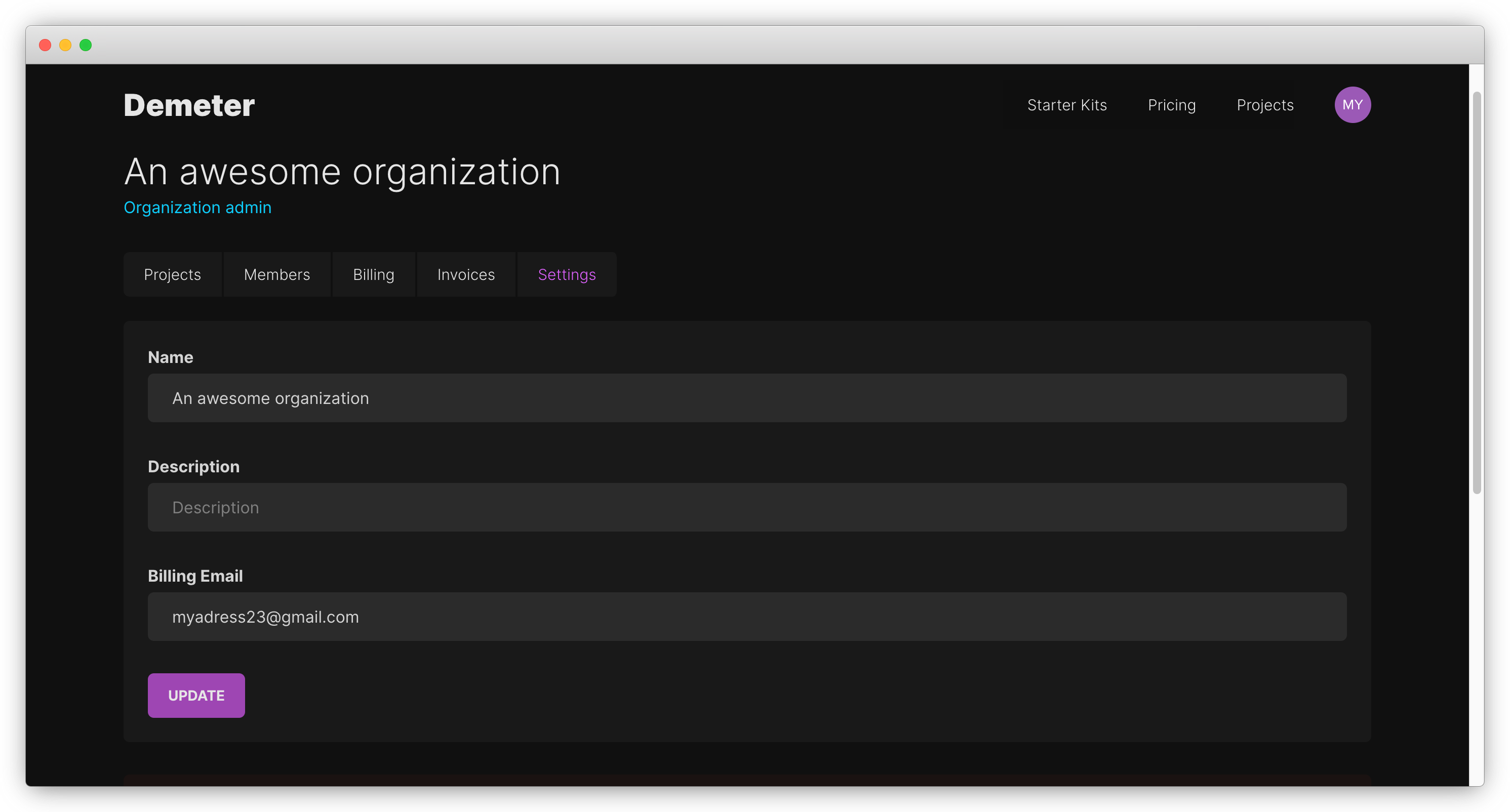 ⚠️
Deleting your Organization will delete all associated projects, together with any Workspace or additional feature running in those projects. This action can not be undone.
Your Profile
Last but not least, accessing your account Personal Information is also easy . By accessing your Profile you can change certain information such as your name, last name, and email address. To do that, you should click on your Profile picture and select the Profile option from the menu.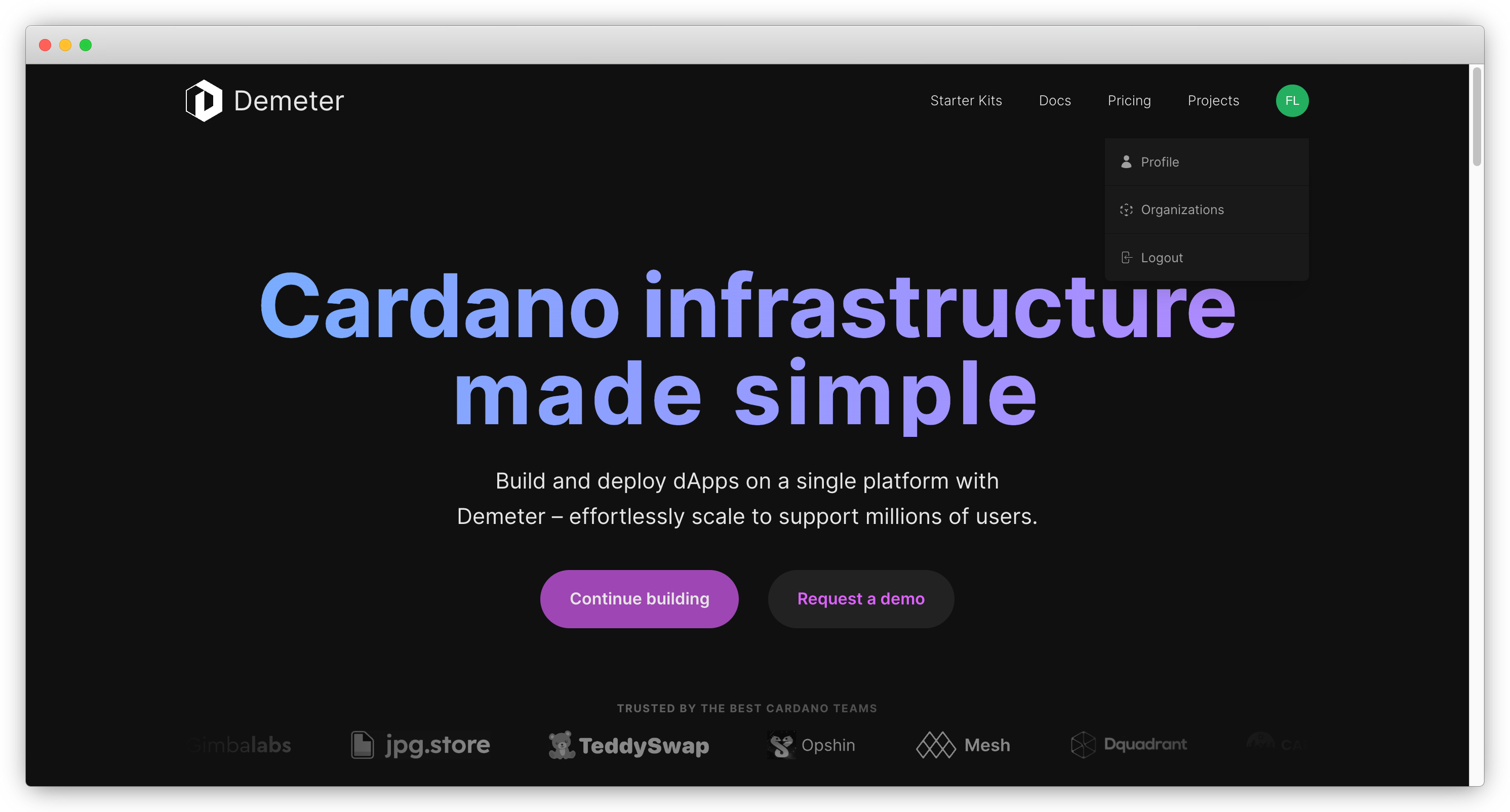 Then, change the info and click on the Update button.